Twin Bruins wear down Trojans
/ THE ORANGE COUNTY REGISTER
Published: Feb. 15, 2012 Updated: 10:58 p.m.
LOS ANGELES – UCLA ordered up a pair of double-doubles from the Brothers Wear in a 64-54 victory against USC at the Sports Arena Wednesday night.

Bruin forward David Wear pumped in 16 points and pulled down 13 rebounds while twin brother Travis added 14 points and 11 boards to provide UCLA enough cushion to survive a series of late runs by the Trojans.

UCLA's Tyler Lamb shoots over USC's Alexis Moore in the second half Wednesday night at the Sports Arena. MICHAEL GOULDING, THE ORANGE COUNTY REGISTER
UCLA led by as much as 23 in the second half en route to improving to 15-11 overall, 8-6 in the Pac-12 as the Bruins head across country this weekend to take on St. John's on Saturday at Madison Square Garden. USC dropped to 6-21, 1-13.
"It's good to sweep the Trojans," UCLA coach Ben Howland said. "That's always a nice thing for us."
Howland had stressed for days about the Trojans.
"I was worried sick about his game," Howland said.
David Wear had also wrestled with an upset stomach in recent days, the source of his indigestion a 10-point, 1-rebound effort in a 73-63 loss to Cal last Saturday.
"That's just unacceptable," Wear said.
Wear and the Bruins took out their frustrations on the Trojans from the opening tip, at one point scoring 10 unanswered points in a key second half stretch.
UCLA continued to build on its quick start, taking a 31-16 lead into halftime by holding USC to 24.1 percent shooting from the field.
The Bruins also dominated the paint, outscoring the Trojans 36-28 on the night. UCLA also outrebounded USC 46-25.
"We had an advantage on offense and were able to run our sets and get tip-outs for offensive rebounds," Travis Wear said.
All of which enabled the Bruins to build a 51-28 lead with 11:28 left. It was a big enough lead for UCLA to hold off the Trojans' late runs.
"Every time it seemed like we had a commanding lead," Howland said, "they scratched and fought tooth and nail and fought back and you have to give them credit for everything they've been through with all the injuries and everything."
__________________
Five observations: UCLA 64, USC 54
February, 15, 2012
11:33 PM PT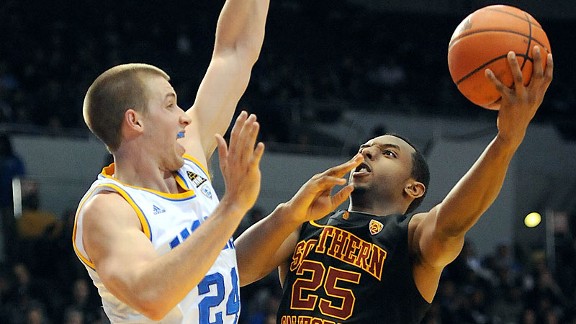 UCLA's Travis Wear, who had a double-double, blocks the shot of USC's Byron Wesley on Wednesday night. Photo: Jayne Kamin-Oncea/US Presswire

LOS ANGELES -- UCLA completed a season sweep of crosstown rival USC with a 64-54 Pac-12 victory Wednesday night at the Sports Arena.

The Bruins (15-11, 8-6 Pac-12) took control early in the game and then held off a late rally by USC (6-21, 1-13) to hand the Trojans their fifth consecutive loss and 14th in the last 15 games. It was UCLA's third consecutive victory over the Trojans and the Bruins improved to 44-20 all time against USC at the Sports Arena.

"It was good to sweep the Trojans," UCLA coach Ben Howland said. "That's always a good thing for us. Believe me, I was worried sick to my gut about this game playing right here in their back yard in what used to be their facility."

The Trojans are playing with a roster that includes only six active scholarship players as they have lost five to season-ending injuries since last summer. Howland came away impressed that the Trojans fought back Wednesday after being down by as many as 23 midway through the second half and cutting the lead to 10 with 1:34 to play.

"They've been through about as rough a year as you can have with all the adversity and injuries so I give Kevin [O'Neill] and his staff a lot of credit for keeping those kids to where they're down here at the very end of the season fighting like it's the beginning of the year," Howland said.
Five observations from the game:
1
The Wear twins had USC seeing double
Twins
David
and
Travis Wear
had their best combined game as Bruins with a total of 30 points and 24 rebounds between them. They each had a double-double marking the first time in their college careers that has happened.
The 6-foot-10 twins had a distinct size advantage against USC, which doesn't play anybody taller than 6-7, but they also had motivation after each played poorly Saturday against Cal, when they combined to shoot 5-for-19 from the field and had 14 points and eight rebounds.
"I was especially hard on myself because of how I played," said David Wear, who had 16 points and a career-high 13 rebounds. "I only had one rebound, I think, and that's unacceptable. I really used that as motivation coming into Monday and Tuesday. I knew that to turn it around I was going to have to play harder and come with a different mindset."
The Wears scored 14 of UCLA's final 15 points, continuing to play hard as USC was trying to get back in the game. Howland said he was pleased to see his sophomore transfers from North Carolina respond to their poor performance from the previous game.
"They came out with a sense of purpose and direction to play tougher, play more physical and go hard to the offensive glass," Howland said. "We need that form both of them as we go forward down the stretch."
2
Jerime Anderson played like a senior
Anderson continues to put up solid all-around numbers and make clutch plays for the Bruins just as you would expect from a senior guard. He had 14 points, five rebounds and five assists and played very good defense. His man,
Greg Allen
, was 4-for-11 from the field and Howland praised Anderson's leadership on the floor and during timeouts.
"He was a good leader tonight," Howland said. "I thought Jerime was exceptional and I was pleased for him to go out as a senior with a sweep over the cross town rival."
Anderson, who had several nice assists down the stretch as USC was making its run, said it has been a long road to becoming a leader after he was arrested over the summer for stealing a laptop.
"It was tough for me to take that position just because of my own individual thoughts about how I should handle myself with the team," he said. "They really, really pushed me to lead and looked to me to be that guy that's supposed to have something to say to the team when it needs to be said."
3
UCLA again had trouble finishing the game
The Bruins dominated the first half and held a 31-16 lead going into the break after holding USC to 24.1 percent shooting and then extended that to 51-28 with 11:28 to play, but as has become the modus operandi for UCLA this season, the Bruins had trouble closing out the game.
USC went on a 14-4 run to cut the lead to 55-42 and after UCLA again forged ahead, 61-42, the Trojans stormed back to within 10 at 62-52, with 1:34 to play. USC shot 55.6 percent in the second half and outscored UCLA, 38-33, after intermission.
"I think a little was fatigue and a little was us not staying as intense as we should have out there," Anderson said. "Just going with the flow of the game and not forcing the issue of what we wanted the flow to be."
Howland credited the Trojans.
"I thought the second half they started breaking us down a little more," he said. "Our offense the second half wasn't as sharp. I don't know if they just played tougher or it was fatigue. You knew that SC was going to come out and play hard and play inspired. Every time we seemed like we had a commanding lead they scratched and fought tooth and nail and you have to give them credit for everything they've been through as a team."
4
The starters didn't get the rest you might have thought
Going up against a team with only one conference victory, you figured this might be a game where some of the starters got some much-needed rest before the team heads to New York to play St. John's on Saturday.
Instead, the Trojans forced Howland to keep his starters in the game the whole time and not only that, but Travis Wear played a season-high 37 minutes and David played 34, the most he has played since he played 37 in the season opener.
"I was a little gassed a couple of times," Travis Wear said.
Howland said he had little choice but to play the Wears so much.
Joshua Smith
was having trouble defending the smaller Trojans' post players and
Anthony Stover
is still recovering from an ankle injury.
Tyler Lamb
, nursing a strained hamstring, played 34 minutes, Anderson played 36 and
Lazeric Jones
played 33. Howland used a seven-man rotation and got only 24 minutes out of his bench, but he said he wasn't concerned with so many players playing so many minutes days before a cross-country trip.
"I didn't look at it like that at all," he said. "I'm just happy that we got the win. Tomorrow is a day off. We're not going to do anything."
5
The Sports Arena was, indeed, UCLA's turf
There was some concern before the game that USC students and fans would take over the Sports Arena crowd being that the venue is adjacent to the Trojans' campus, but that didn't really materialize.
About 90 percent of the announced 9,064 were UCLA fans and the UCLA student section was as full as it has been all season.
"It's our home game and the students came out and showed out very well tonight so I was happy to get the win for them," Anderson said.
The students arrived early and met the team at the arena, giving cheers and encouragement. Howland said it made a difference.
"Our players were excited about the student body being here before the game," he said. "I know they were enthused about that. For us, it's always important. You're playing your cross town rival."
Boxscore (YahooSports.com)