UCLA unable to close gap with California
February, 11, 2012
9:13 PM PT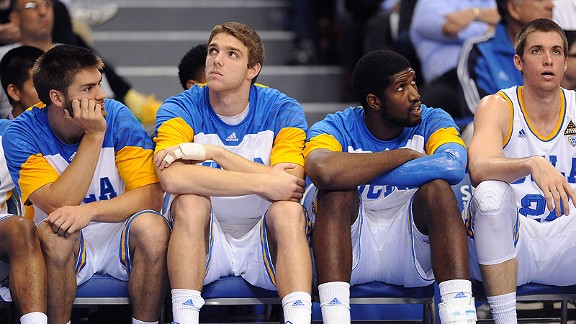 After the second consecutive blowout loss to Cal, the Bruins weren't feeling very good Saturday. Photo Jayne Kamin-Oncea/US Presswire
LOS ANGELES -- What little hope UCLA had for this season disappeared into the rafters during a 73-63 loss to California on Saturday afternoon at the Sports Arena.
Talk of running the table and winning the Pac-12 Conference wafted away as California clearly claimed its spot as the top team in the league with a convincing win on the road.
UCLA had hinted that it was poised for a late-season surge, but the Golden Bears dashed those hopes and the Bruins must now try to find a way to heal their bruised egos and figure out a way to salvage the season.
A run to the Pac-12 tournament title is about the only path to the NCAA tournament for UCLA at this point, but so long as California stands in the way, the Bruins seem to have no shot at that, either.
The Bruins have been competitive in every conference game this season except for the two against Cal. You could argue the Bruins should have won every conference game this season, except for the two tangos with the Golden Bears.
A victory Saturday would have kept some semblance of hope alive. Heck, a close loss might even let you think the Bruins (14-11, 7-6 Pac-12) could pull an upset over Cal (20-6, 10-3) should they meet sometime down the road. But the thorough and methodical pounding the Golden Bears delivered both times they played UCLA makes it pretty clear which is the superior team as the Bruins fell three games behind Cal with five conference games to play.
"It's disappointing obviously," UCLA guard
Jerime Anderson
said. "We saw where we could have been and where we're at now. We look at it like that was the game at hand and we needed to beat that Cal team just for our sake, but it didn't go down like that today."
Just like in their first meeting, when Cal blasted UCLA, 85-69, the Golden Bears took control with a second-half surge. UCLA trailed, 32-26, at halftime Saturday, but the Bruins got only one defensive stop on Cal's first 12 possessions of the second half and had a 56-39 lead with 13:24 to play.
That run seemed to suck all the life out of the Bruins, who seemed resigned to defeat over the next five minutes as Cal maintained its lead. Coach
Ben Howland
wouldn't have any of it. During a timeout, he chastised the team for giving up and implored them to keep fighting.
The Bruins responded, cutting the Cal lead to 66-59 with 3:15 to play, but could not get any closer.
"I was kind of disappointed the way were kind of hanging our head when we had the big deficit and I really got on them and we really fought back at that point," Howland said. "You never hang your head, you never quit, you never give up, you keep fighting always. Hopefully that's a lesson learned from today. You can't ever display that."
That was a difficult thing to do for the UCLA players, who had a sense of deja vu as Cal began pulling away. It was the same modus operandi the Golden Bears used in Berkeley, where they led by one at halftime then blitzed to a 24-point lead before winning by 16.
"It was tough because at halftime we had talked about coming out strong and not letting them jump out like they did the last time we played them," forward
David Wear
said. "It was tough that we let that happen again."
Now the Bruins must fight to stay in this season. The Bruins entered this season as favorites to win the conference title, but have very slim chances of doing so now despite a favorable schedule with three of their final five conference games at home.
The best-case scenario now appears to be a fourth-place finish in conference to secure a first-round bye in the Pac-12 tournament. Fifth or lower and the Bruins would have to win four games in four days to earn an NCAA tournament berth. No conference team has ever done that.
Still, that is at least something. The Bruins say they aren't going to give up. The loss to California may have taken the Bruins out of the regular-season title race, but that was going to be a longshot anyway.
"It would be a lot more difficult to swallow if we were in a different situation, but we know where we are," center
Joshua Smith
said. "This was a game if we would have won we would have moved up in the standings, but we're not really in a place where one loss is going to kill us that much."
But it remains to be seen if UCLA can put together enough complete games to make a serious run at the conference tournament. So far, they haven't. Just when it looked as if the Bruins were ready to make a run by winning a close game at Washington State and then taking care of Stanford on Thursday, they went away from their recipe for success.
Unselfish play and solid team defense had helped the Bruins get back into the conference race, but Saturday the Bruins had no assists in the first half and finished with a season-low seven as players drove the lane instead of passing and took bad outside shots instead of running the offense.
On defense, the Bruins were slow in rotations and couldn't stay with the heavy-motion and well-executed pick-and-roll offense Cal threw at them.
"When we started to fall behind, guys started to try to do a little too much on their own rather than stay within the team framework," Howland said.
The Bruins maintain that if they play their best, they can handle a team like Cal. The Bruins missed a number of easy layups and inside chip shots Saturday and also made only four of 14 3-point shots -- well below the conference-leading 41.9 percent UCLA was shooting entering the game.
"They are the best team in our league," Smith said. "They execute their stuff, all their guys can score and they have great coaching. But we're not scared of any team. We'll play any team. They're obviously a good team and we're not going to take anything away from that. They beat us pretty good twice, but if they are in our way to get to the tournament we're going to go out there and see what we can do."
"We're not going to quit," Smith added. "We're going to keep playing hard and see where that lands us when it's over."
And as long as it's not another game against Cal, the Bruins might stand a chance.
________________
Rapid Reaction: California 73, UCLA 63
February, 11, 2012
4:54 PM PT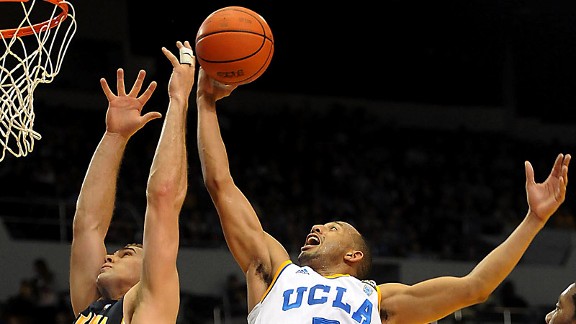 Jerime Anderson and the Bruins simply couldn't keep pace with Cal in another loss. Photo Jayne Kamin-Oncea/US Presswire
LOS ANGELES -- California demonstrated why it is one of the Pac-12 Conference leaders with a convincing 73-63 victory over UCLA Saturday at the Sports Arena.
It is the first time since 1992-93 that Cal (20-6, 10-3) has swept the season series from UCLA (14-11, 7-6) and it was UCLA's first home conference loss this season. Cal also swept USC, marking the first time the Golden Bears have swept both Los Angeles-area schools since 1958-59.
OVERVIEW:
UCLA fell into a 17-point hole with 8:42 to play, but tried to make a game out of it and got to within seven at 66-59 with 3:15 to play. It was too much to overcome for the Bruins, who committed two crucial turnovers on their next three possessions and made only one of their last four shots.
Cal's
Allen Crabbe
made a back-breaking 3-pointer to give the Golden Bears a 70-59 lead with 1:19 to play. California's precision offense and timely passing was too much for UCLA to overcome as the Golden Bears shot 51.9 percent for the game.
Justin Cobbs
led the way with 18 points on 7-of-11 shooting. Crabbe added 14 points on 5-of-8 shooting.
TURNING POINT:
California made 11 of its first 15 shots of the second half, including eight of its first 10, extending a 32-26 halftime lead to 64-47 with 8:42 to play. California seemingly scored at ease during the dominant run which featured several well-executed pick and rolls for which UCLA had no defensive answer.
UCLA held California to only two field goals the rest of the game, but that early second-half dominance changed the tone of the game and the Bruins were playing catchup the rest of the way.
UCLA STAR OF THE GAME:Jerime Anderson
scored 16 points on 6-of-10 shooting for the Bruins, who shot only 39.7 percent for the game. Anderson's 3-pointer just before halftime helped UCLA stay close at 32-26 when it looked as if Cal might take a double-digit halftime lead.
Anderson also brought the Bruins back from oblivion when he scored nine points during a 12-2 run that closed a 64-47 deficit to 66-59 with 3:13 to play. Anderson's 3-pointer ended that run.
STAT OF THE GAME:
UCLA had zero assists as a team in the first half and had only seven for the game -- a season low. Anderson and fellow point guard
Lazeric Jones
had some moments of selfish play, but the low assists total was mostly attributed to the post players being unable to hold on to passes or finish plays in the paint.
Center
Joshua Smith
(3-7), forward
Travis Wear
(1-6) and forward
David Wear
(4-13) all missed several easy chips shots around the basket. They were a combined 3-of-15 from the field in the first half.
WHAT IT MEANS:
UCLA is clearly a notch below California. The Golden Bears are the only conference team that has easily dispatched UCLA and they have now done it twice this season. The Bruins have been within single digits in each of their other four conference losses and could easily be in the mix for the regular-season conference title, but they trailed Cal by as many as 24 in their 85-69 loss on Dec. 31 and were down by 17 in the second half Saturday.
The Bruins are eying the Pac-12 tournament as their best shot at an NCAA tournament berth, but they are more than likely headed toward the NIT, especially if they run into the Golden Bears at Staples Center in March.
Boxscore (Yahoo Sports)