Stanford forward Andrew Zimmermann, left, tries to stop UCLA guard Jerime Anderson from putting up a shot during the Bruins' 72-61 victory Thursday. (

Mark J. Terrill / Associated Press

/

February

9

, 2012

)
Bruins' biggest takeaway against Stanford: A win
UCLA makes the most of 22 turnovers by Stanford and comes up with 15 steals against the Cardinal in a 72-61 victory.
By Chris Foster
The Los Angeles Times
11:08 PM PST, February 9, 2012
Onward … and upward?
UCLA gets a crack at first-place California on Saturday, with the Bruins able to claim they are at least on the fringe of the Pac-12 Conference title race.
The Bruins' 72-61 victory over Stanford at the Sports Arena on Thursday night earned them a spot in the upper half of the Pac-12. As for any higher aspirations, UCLA can address those Saturday, when the Bears, who at 9-3 share the conference lead with Washington, drop by.
The Bruins tuned up for that with a sloppy performance in which they were the better team, grading on a curve. Lazeric Jones scored 21 points, including a waiting-to-exhale moment with a three-point shot to spark a 10-0 run that gave UCLA a 63-53 lead with two minutes left.
Stanford lent a hand, playing as if turnovers were an intricate part of the game plan. The Cardinal finished with as many turnovers, 22, as field goals. UCLA had a season-high 15 steals and 11 blocked shots.
All of which allowed the Bruins to slip past Stanford into sole possession of sixth place, a game behind Oregon, Arizona and Colorado, which are tied for third.
"We are trying to take it one game at a time, but we all know what the situation is," said Jones, who had six assists and six steals. "We know we need big wins and we need to get a lot of wins."
The Bruins, 14-10 overall and 7-5 in conference play, can get one Saturday against a California team that methodically disassembled UCLA, 85-69, on Dec. 31, leaving the Bruins with an extra New Year's resolution: Play better defense.
"None of us came ready to play that game," UCLA center Anthony Stover said. "With Cal being one the best teams in our league, we have to be ready this time."
Stover said he felt that loss coming before the game began.
"I told Josh [Smith] before the game that 'I'm not feeling this. Our team doesn't feel here today.'" Stover said. "I could feel it in my teammates. I know these guys. I spend every single day with them. The attitude was not there. I don't know if they were not there mentally in their own worlds, or whatever they are doing. I just felt a little off that day."
The Bears have been among the conference leaders since that victory and, at 19-6 overall, have the best record among Pac-12 teams.
"We're looking forward to playing this team and showing more than we did the last time," Stover said.
The Bruins prepped for it with an uneven performance against the Cardinal.
Stanford (16-8, 6-6 Pac-12) had 13 turnovers before halftime. UCLA parlayed such generosity into a 19-2 run for a 25-9 lead with nine minutes left in the half. The Bruins led 35-27 at halftime.
Yet what could have a much-needed breather was filled with hyperventilation-type moments throughout the second half. UCLA turned over the ball 19 times.
But Jones and Jerime Anderson, who had 12 points and six assists, did enough to keep the Cardinal at arm's length.
Forward Travis Wear, playing despite a high ankle sprain, had 13 points off the bench and offset the foul trouble that Smith and David Wear were in.
"It felt fine. Once you start going, you forget about the pain," Travis Wear said.
The Bruins hope to dull a little more pain against Cal on Saturday.
____________________
The Los Angeles Daily News
Posted: 02/09/2012 11:21:12 PM PST
Updated: 02/09/2012 11:42:06 PM PST
If Johnny Dawkins would have jammed his fingers any harder, he might have broken them.
By the time the Stanford head coach called a timeout with 12 minutes, 33 seconds left in the first half, his Cardinal were reeling and the UCLA basketball team was scorching.
Sophomore guard Tyler Lamb's 3-pointer gave the Bruins a 10-point lead in the game's first eight minutes and UCLA barely cooled off in the first half.
Stanford, though, benefited from Bruins sloppiness late in the second half to make it a tight game once more, and two teams whose first matchup went to the wire once more battled it out.
The Bruins, though, pulled out their second straight win with a 72-61 victory victory over Stanford on Thursday night in front of 5,207 at the Sports Arena.
After falling to the Cardinal in the team's Pac-12 opening matchup on Dec. 29 after senior guard Lazeric Jones' potential winning attempt was blocked by Stanford forward Josh Heustis, UCLA thought the Cardinal had stolen one.
"We were upset we got that loss - we fought and stayed in it up there," said Jones, who followed up his 26-point performance in the first matchup with a 21-point, six-assist, six-steal game Thursday.
"But not only did we want this game, the fans were out and supporting us and the fact they packed the house and stayed behind us really kept us going."
Apparently the Bruins wanted to steal this one right back quickly.
UCLA (14-10, 7-5 Pac-12) had six steals in the game's first nine minutes and Stanford (16-8, 6-6) committed 13 turnovers in the first half, finishing with 22 for the game.
The Bruins also added 11 blocks, including three each by Anthony Stover and Travis Wear.
"Our defense has improved," UCLA coach Ben Howland said. "You think about how our defense was the first time we played them the first time - we had to go to zone because we couldn't stop them."
Added Wear: "We were rotating - the bigs did a great job of rotating and getting blocked shots. We tried to wall up. It was a tightly called game so we were just trying to wall up."
UCLA's increased energy on defense might have been a product of necessity as Wear's high ankle sprain limited his minutes and Joshua Smith was plagued by early foul trouble.
The Sports Arena burst out in loud boos when Smith picked up his third foul with just over six minutes left in the first half. It was Smith's second offensive foul of the evening and it came after the sophomore center scored a combined 43 points in the UCLA's previous two games.
The Bruins might have been better in a constant state of flux. The next play after Smith's third foul, Stover grabbed a rebound, passed it up to Jones who found a streaking Wear for the dunk, putting the Bruins back up 12 after the Cardinal cut it to seven with a 10-2 run.
"Teams are not going to just fold," said senior guard Jerime Anderson, who finished with 12 points and six assists. "We have to be able to take those hits and keep rolling, keep the lead and play good basketball."
Stanford atoned for its earlier sins with a good start to the second half, trimming the Bruins' lead to three twice in the first five minutes. UCLA recaptured the momentum midway through the second half, though, reeling off a 7-0 run, capped off by a Jones-to-Anderson behind-the-back breakaway dunk that gave the Bruins a 46-36 lead.
Down the stretch, however, UCLA committed costly turnover after costly turnover, watching the Cardinal cut it all the way to 56-53 before the Bruins went on a 10-0 run to give themselves some breathing room.
"We built a nice lead in the first half twice, and every time they grinded their way back in the game," Howland said. "We had some big shots down the stretch - but we the zone bothered us. We had too many turnovers. We were way too loose with the ball."
____________________
/ THE ORANGE COUNTY REGISTER
Published: Feb. 9, 2012 Updated: 10:55 p.m.
LOS ANGELES – Having spent much of the season giving away games, UCLA finally stole one.
The Bruins pulled off a season-high 15 steals en route to a 72-61 victory against Stanford at the Sports Arena on Thursday night.
In a game marked by a series of runs by both teams, UCLA's defensive pressure allowed the Bruins to finally pull away in the closing minutes.
UCLA (14-10, 7-5 Pac-12) now looks to further enhance its chances in securing a spot in the top four in the conference standings and a first-round bye in the conference tournament when it plays Cal on Saturday.
Bruins guard Lazeric Jones finished with a game-high 21 points, with forward Travis Wear adding 13 and guard Jerime Anderson 12. But the numbers that really stood out Thursday were 22 and 11.
UCLA forced 22 Stanford (16-8, 6-6) turnovers and blocked 11 shots. The Bruins enjoyed a 28-13 points-off-turnover advantage. UCLA's starting backcourt of Jones, Anderson and Tyler Lamb combined for 13 steals. Bruins back-up center Anthony Stover rejected three Stanford shots and Lamb added two blocked shots.
But it wasn't until late in the second half that Stanford finally cracked for good under UCLA's defensive pressure.
Stanford closed to 56-53 on an Aaron Bright basket. Jones then launched a 10-0 UCLA run with a 3-point basket followed by an Anderson baseline jumper. A Lamb steal set up a Jones layup for a 63-53 lead.
UCLA missed an opportunity to blow the game open after going on a 19-2 run over the course of 7:21 in the first half. When the Bruins weren't pressuring Cardinal shots they were clogging the passing lanes, turning 13 Stanford first-half turnovers into a 14-2 points-off-turnover advantage. UCLA had 10 steals by halftime.
The Bruins led by 16 with 9:21 left in the first half only to watch Stanford cut the gap to 35-27 at the intermission and then shrink it further to 35-30 when freshman guard Chasson Randle opened the second half scoring with a 3-pointer.
Cardinal forward Dwight Powell brought Stanford to 39-36 before UCLA finally regained its footing.
Travis Wear hit a jumper from the wing, Jones followed up a Stanford miss with a 3-pointer and then moments later stole the ball and, under pressure, found Anderson breaking up court with a cross-court behind-the-back pass that Anderson converted into a dunk and a 46-36 lead.
Again Stanford countered with a run of its own, Bright's jumper pulling the Cardinal to three points back with 4:41 remaining.
UCLA's defense allowed the Bruins to overcome 19 turnovers and another poor night at the foul line. The Bruins shot 50 percent from the line in the first half and then went 5 for 9 during one stretch in the final 1:55.
____________________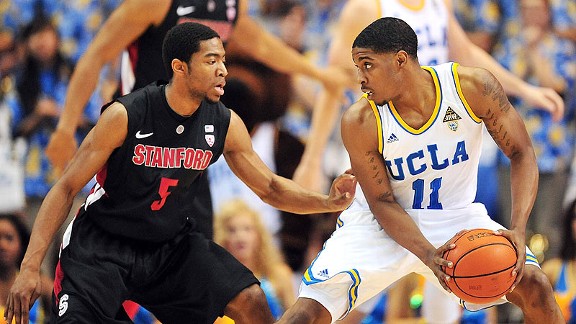 UCLA guard Lazeric Jones scored a game-high 21 points to lift the Bruins over Stanford on Thursday. Photo: Gary A. Vasquez/US Presswire
LOS ANGELES -- UCLA finally seems to have learned how to hold on to a lead.
After building a reputation this season for letting leads slip away late in games, the Bruins withstood a late-game charge for the second consecutive game and defeated Stanford, 72-61, in a Pac-12 Conference game Thursday night at the Sports Arena.
Despite making only 9-of-16 free throws in the final 1:52, UCLA (14-10, 7-5) held off Stanford (16-8, 6-6), which had pulled to within three points at 56-53 with 4:45 to play. It was the fourth win in five games for UCLA, which also held off a late run in a 63-60 victory Saturday at Washington State. UCLA has now won 10 consecutive home games including six in a row at the Sports Arena.
"I was proud of our poise," coach
Ben Howland
said. "I was pleased with the poise that we showed when they made a comeback and made a run and fought our way through it."
The Bruins broke a sixth-place tie in the conference standings and are now two games behind leaders Washington and California with a game Saturday at 1 p.m. against California at the Sports Arena.
Five observations from the game:
1
Lazeric Jones wasn't going to let it get away again
Jones scored a game-high 21 points to go along with six assists and six steals, more than making amends for his final-second decision that cost UCLA the game last time UCLA played Stanford.
In that 60-59 loss, Jones drove to the basket and tried to penetrate, but had his shot blocked at the buzzer instead of finding a wide open
Tyler Lamb
or stopping for a jump shot. Thursday, he played the entire game as if he were on a mission to make up for that play.
"We were upset that we got that loss up there," Jones said.
Jones basically won the game in a stretch of about a minute and a half when he made a 3-pointer with 3:35 to play after Stanford had pulled to within three at 56-53. On the next possession he hit
Jerime Anderson
for a jump shot with 2:44 to play and then scored on a layup on the next UCLA possession as the Bruins opened a 63-53 lead. He got a steal on the other end of the court and Anderson made one of two free throws after getting fouls and UCLA had a 64-53 lead with 1:52 to play.
He also made the highlight play of the night, taking a tipped pass at mid court and making a behind-the-back pass to Anderson for a slam dunk that gave UCLA a 46-36 lead.
"Zeek is our captain," Howland said. "He's really stepped up and he played great tonight."
2
The Bruins tightened up the defense when it mattered most
After Stanford had cut the UCLA lead to 56-53 with 4:45 to play, the Bruins hunkered down on defense. They created a five-second violation on an in-bonds play out of a timeout followed by a nice piece of post defense by
David Wear
against
Josh Owens
and then steals by Lamb and Jones.
Those defensive stops turned into eight UCLA points and by the time it was over, the Bruins had a 64-53 lead with 1:52 to play and Stanford was forced to foul. It was a marked defensive improvement for the Bruins, who played strictly man-to-man Thursday. The last time UCLA played Stanford, the Bruins had to use a zone because their man-to-man was ineffective against the Cardinal.
"That was big for us," Howland said. "We dug in and our defense has improved. I'm real pleased with the improvement this team is showing on the defensive end."
UCLA had a season-high 15 steals with Jones leading the way and Lamb snatching four, and the Bruins also had 11 blocked shots -- one shy of their season high.
Anthony Stover
and
Travis Wear
had three blocks apiece.
3
The Bruins continually answered Stanford's runs
UCLA opened a 16-point lead in the first half, but Stanford cut that to eight. The Bruins then pushed it back to 14, but Stanford trimmed it to 37-34 early in the second half.
UCLA got big shots from Travis Wear, Jones and the Anderson dunk off the behind-the-back pass from Jones to forge another double-digit lead at 46-36. Stanford again closed to within three, but Jones then took over and the Bruins made enough free throws down the stretch to hold on.
"We grew from this game because they hit us with a couple of punches and we hit them with a couple back," Anderson said. "That's what we've got to do. Teams are not going to just fold ever. We have to be able to take those hits and keep rolling and keep playing good basketball."
4
The Bruins again struggled against a zone defense
After falling apart down the stretch last week when Washington switched to a zone, the Bruins again appeared to have trouble when Stanford came out in a zone for the second half.
UCLA had a season-high 19 turnovers Thursday, 11 of those coming in the second half as Stanford continually picked off entry passes from guards. Jones and Anderson each had five turnovers. Coming in to the game, UCLA was averaging a conference-low 11.3 turnovers
"It was uncharacteristic of how we've been playing," Howland said. "We were way too loose with the ball. We've got to take better care of the basketball."
Part of the issue was that
Joshua Smith
, UCLA's 6-10 zone-busting center, was in foul trouble all game. He picked up two fouls early then a third when Howland gambled and put him back in at the end of the first half. Referees whistled him for his fourth foul -- all of them offensive -- with 16:15 to play and Smith, who averaged 21.5 points and 24 minutes last weekend in Washington, played only 13 minutes and had seven points and seven rebounds.
"He got into foul trouble and that's a problem," Howland said. "That definitely hurts us because Josh is our best low post scorer."
5
Free-throw shooting continued to be a problem
The Bruins made only 17-of-27 free throws for 63 percent and hit only 9-of-16 in the final 1:52. Luckily their lead was big enough to hold on, but in a tighter game it would have been a major problem as it
has been in other games
.
UCLA is shooting 65.9 percent from the line for the season and has lost at least three games because of poor free-throw shooting. Travis Wear, the team's leading free-throw shooter at 84.3 percent coming into the game, made only 3-of-6. Jones, an 81 percent shooter last season, missed a pair of free throws in the waning minutes.
"We have some good shooters and in practice we knock them down, we just have to start consistently knocking them down in the games," Travis Wear said.
Boxscore (YahooSports.com)