By Peter Yoon
ESPNLosAngeles.com
Updated: February 29, 2012, 1:34 PM ET
LOS ANGELES -- The recent downturn in
UCLA
basketball can be blamed on coach Ben Howland losing control of his program when a group of prima donna players began to rebel without consequence, according to a
Sports Illustrated story.
The article, first published on the SI.com iPad application late Tuesday night and appearing on the magazine's website Wednesday morning, paints Howland as a hands-off coach who prefers his players to police themselves, but could not maintain discipline when high-profile recruits expected and often received star treatment.
[+] Enlarge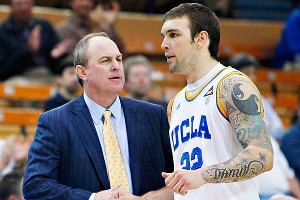 AP Photo/Danny MoloshokA Sports Illustrated story alleges UCLA coach Ben Howland, seen in 2010, failed to discipline Reeves Nelson for abusive behavior and intentionally causing injuries to teammates in practice.
The magazine said it spoke with more than 12 players and staff members from UCLA's past four teams for the report. It cited numerous anonymous former players and other sources associated with the program alleging widespread fighting amongst teammates, players intentionally injuring others during practice, drinking and smoking marijuana before practices and using Ecstasy at off-campus parties.
Many of those deeds went unpunished, according to the report, which alleges Howland "allowed an influx of talented but immature recruits to undermine team discipline and morale."
"Guys drinking, guys doing drugs, guys not taking practice seriously, guys fighting ... You won't find that on the Pyramid of Success," one player said, according to the report, referencing the philosophy embraced by late UCLA coaching great John Wooden.
UCLA's problems began after the last of its three consecutive Final Four runs in 2008, according to the article.
The 2008-09 recruiting class of
Drew Gordon
, J'mison Morgan, Jrue Holiday, Malcolm Lee, and
Jerime Anderson
was among the highest-rated classes of all time, but many of those players did not grasp the commitment required to succeed in big-time college basketball, according to the story.
Gordon, Morgan and Anderson partied before practice, according to the story, and their sloppy play impacted the quality of practices. Three members of the team allegedly went to a New Year's Eve rave and took Ecstasy, the magazine reported.
All the while they "chafed at being treated as anything but the stars they were coming out of high school," according to the story.
The next season's incoming recruiting class included Reeves Nelson, who wasted little time in trying to establish himself as resident bully, according to the story. He regularly got into fights and intentionally fouled players with the intent to injure.
Nelson and fellow freshman
Anthony Stover
"partnered with Gordon, Anderson and Morgan to form a crew that would further erode team discipline and unity," according to the report.
Asked why he didn't discipline Nelson, Howland told Sports Illustrated: "I firmly believe in the philosophy of giving all of my players the chance to do things the right way. There have been challenges with some student-athletes during my tenure here at UCLA, and we have utilized plenty of resources to help them, the specifics of which very few people would know anything about."
Nelson, the only former player to speak on the record, acknowledged his part in several violent incidents during practices, including fights and fouls responsible for injuries that kept James Keefe, Alex Schrempf and
Tyler Trapani
out of action.
"On all that stuff, I have no trouble admitting that I lost control of my emotions sometimes," Nelson said.
UCLA put out a series of statements responding to the story.
"I have discussed the Sports Illustrated story with Coach Howland and Chancellor (Gene) Block and we will continue to address any issues and concerns," Bruins athletic director Dan Guerrero said. "Like many in the Bruin family, I am disappointed. That said, I know that we have, and will continue to provide, the necessary resources, education and support for all of our coaches, staff and student-athletes."
Howland's statement said: "Like everyone else, I am always looking forward to improving as both a person and as a coach. I am proud of the coaches, staff and student-athletes in our program, and I look forward to our future."
Block, Guerrero and Howland were scheduled to conduct teleconference calls with the media later Wednesday afternoon.
A couple of former UCLA players also weighed in.
"I knew that there were a few bad eggs in the program, but that happens at every program,"
Minnesota Timberwolves
forward and former UCLA standout
Kevin Love
told ESPNLosAngeles.com. Love played one season at UCLA, in 2007-08.
Love's Timberwolves teammate
Malcolm Lee
, who also played at UCLA, said he hadn't seen the report and wasn't aware of the allegations.
"I really don't know what the consequences are. I guess that'd be up to the school or the NCAA. Hopefully everything will be resolved," Lee told ESPNLosAngeles.com. "I'm sure every school has problems. It's how you deal with it."
Star players were rarely punished for disruptions and other players began to rebel, according to the story. One upperclassman, upset over his lack of playing time, told Sports Illustrated that he stopped wearing his game jersey under his warm-ups so Howland couldn't put him in during garbage time.
Howland dismissed Gordon from the team in December 2009. It was Gordon's second-guessing of Howland's coaching, not his partying, that got him singled out, source said, according to the story.
"The message some players took from Gordon's departure was this: At UCLA you could fight, you could drink alcohol and do drugs to the point it affected your performance, but the one thing you could not do was question Howland's knowledge of the game," the story reads.
Prior to the 2010-11 season, Howland announced that he had dismissed Morgan from the team for undisclosed reasons.
Nelson, who allegedly urinated on Tyler Honeycutt's clothes when he suspected Honeycutt had ratted out a plan to rent a party bus on New Year's Eve, continued to be a problem. He regularly verbally abused assistant coaches and staff members and on one ocasion, kicked balls into the stands after practice and told the team's managers to "fetch," according to the report.
"After each of the incidents, Howland looked the other way. One team member says he asked Howland after a practice why he wasn't punishing Nelson, to which he said Howland responded, 'He's producing,' " the Sports Illustrated story reads.
Nelson was finally dismissed from the team seven games into this season. Anderson, after a brush with the law when he was arrested for stealing a laptop computer last summer, has seemingly grown up and become a team leader.
But that doesn't mean the problems are gone.
Current center
Joshua Smith
, another highly-rated recruit, has been allowed to underachieve without consequence this season, according to the Sports Illustrated story. Smith showed up for the season out of shape and has been allowed to miss meetings and arrive unprepared for workouts, according to the report.
"Same thing as before," an unidentified player told the magazine. "Josh is a star and so [Howland] isn't holding him accountable."
Before the article was published, however, Howland said during a regularly scheduled news conference that he has made mistakes in the past.
"No one is perfect," he said. "I would never claim to be that person. Everybody makes mistakes. I'm definitely not perfect."