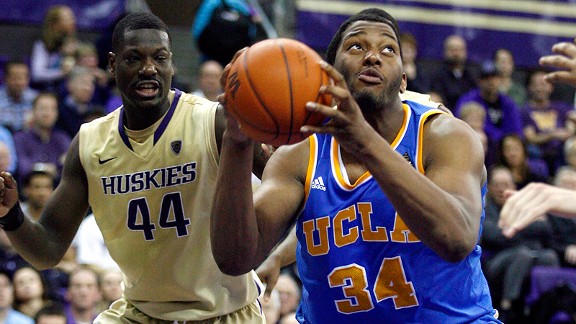 UCLA's Joshua Smith had arguably the best game of his career, but it wasn't enough in a loss. Photo Joe Nicholson/US Presswire
Men's basketball loses grip on lead against Washington
Published February 3, 2012, 1:04 am
SEATTLE
— Joshua Smith saw the ball rolling off the rim and was committed until the very last second to put that missed shot back in.
But that last second ended with the buzzer sounding and Smith flat on his back after diving for the rebound. He was staring straight up at the low, noise-amplifying roof of Alaska Airlines Arena, then put his hands over his head in disbelief.
Smith's best performance of his career was squandered. The
UCLA
men's basketball team's best opportunity to notch a signature road win was lost in a 71-69 come-from-behind victory by conference leader Washington in its home gym.
"We missed a big opportunity," said Smith, his eyes red and his voice soft. "Playing a team that's No. 1, a good team, they showed why they're No. 1. What's really important in our league is closing out home games. We had an opportunity to close out the game, we didn't."
Smith finished with 24 points – a career-high – and nine rebounds, once again playing close to his home in Kent, Wash.
This was a place that
UCLA
(12-10, 5-5 Pac-12) couldn't win inside in the past. That vexing streak – now eight straight losses inside Alaska Airlines Arena – continued.
After
UCLA
went up 10 with less than seven minutes to play, Washington switched to a zone defense to counter Smith's dominance.
UCLA
couldn't find the guy it had been going to all night, and Washington (15-7, 8-2) started a run.
"We didn't attack their zone well,"
UCLA
coach Ben Howland said. "I'm responsible for that. We were a little discombobulated and didn't execute down the stretch offensively, which starts with me."
That began a four-minute long cold streak for the Bruins, who watched the Huskies electrify the crowd with a 13-0 run to go up three.
The rowdy arena known as "Hec-Ed" was as much of a home-court advantage as advertised. A crowd that grew irate as
UCLA
built its lead let loose as Washington chipped right back.
"We couldn't hear the play calls or anything like that," redshirt sophomore forward David Wear said of the Huskies fans. "The crowd was really a factor there towards the end."
An 18-point second half by Huskies sophomore guard Terrence Ross helped Washington take the lead, but
UCLA
still had a chance late because of Smith.
Smith had 14 first-half points and his start-to-finish effort was capped off by a possession where he grabbed two rebounds before getting a putback through a foul. He missed the free throw, leaving
UCLA
trailing 71-69.
Howland elected to not call a timeout with about 20 seconds left and the Bruins holding the ball down two. The ball found freshman guard Norman Powell – who was on the floor in place of fouled-out sophomore guard Tyler Lamb. Powell's shot hung on the rim before falling out.
Three straight road games have seen
UCLA
go down to the wire with its opponent. The latest was more deflating than the other two. Their next chance to win comes Saturday across the state in Pullman, Wash.
"We want to come away from this road trip with one win," David Wear said. "It's crucial that we let this one go and we focus on beating Washington State now."
____________________
Bruins lose a lot in loss to Huskies
/ THE ORANGE COUNTY REGISTER
Published: Feb. 2, 2012 Updated: 11:03 p.m.
SEATTLE – In a season full of too many of them, this wasn't just another loss for UCLA.
There was no way to diminish the enormity of the Bruins' collapse in a 71-69 loss to Washington on Thursday night, neither its manner nor what was wasted.
UCLA's Jerime Anderson reacts after Washington rallied in the final minutres to stun the Bruins, 71-69, on Thursday night in Seattle. Photo: ELAINE THOMPSON, AP
UCLA (12-10, 5-5 Pac-12) blew a 10-point lead in the final six minutes and a whole lot more in falling to Pac-12 co-leader Washington (15-7, 8-2) on a night that almost certainly ended the Bruins' conference regular-season title hopes. It also placed the Pac-12 preseason favorites in the likely position of needing to win the conference tournament to get into the NCAA Tournament.
"We missed a big opportunity," said UCLA sophomore center Joshua Smith, who finished with a game- and career-high 24 points along with nine rebounds.
Despite throwing away the lead, the Bruins still had a final chance to escape from Hec Ed with their first victory in Seattle since 2004 when Smith pulled down A Huskies miss with 24.8 seconds to play.
However, freshman guard Norman Powell's 10-foot jumper in front of the Bruins bench bounced off the rim and Smith couldn't grab the rebound as the final buzzer sounded.
"I thought that for 34 minutes we really played tough, really played smart," UCLA coach Ben Howland said. "We made some really bad mistakes. No.1: costly fouls."
Within 45 seconds of extending the lead to 10, a pair of sloppy UCLA fouls threw the Huskies a lifeline, Washington guard C.J. Wilcox sinking four free throws to close the gap to 65-59.
Then Huskies guard Terrence Ross, who had kept Washington in the game with his perimeter shooting, took over the game for good, scoring 10 of his 22 points in the final 4:42.
"I thought Ross took the game over down the stretch and made all the big shots to bring them back and win the game," Howland said. "We did not have an answer for Ross."
__________________
/ THE ORANGE COUNTY REGISTER
Published: Feb. 2, 2012 Updated: 11:04 p.m.
SEATTLE – The key to playing Washington at Hec Edmundson Pavilion, rival Pac-12 coaches say, is to not get sped up — don't let the combination of the crowd's deafening roar and an energy level matched by the Huskies' defensive pressure suck you into playing at a breakneck pace.

UCLA, in a 71-69 loss to Washington on Thursday night, was the latest victim to find out that when you play pedal to the metal bad things can happen in a hurry
Up 65-55 with 6:02 remaining, UCLA gave up a pair of quick, ill-advised fouls that the Huskies converted into four points. Then the Bruins found out it could neither silence the Hec Ed crowd nor catch Washington guard Terrence Ross in a game that quickly deteriorated into a track meet. Ross scored 10 of his team-high 22 points in the final 4:42.
"Down the stretch that definitely happened," UCLA forward Travis Wear said. "We let the crowd get into it, got sped up and it just snowballed."
When it was over the Bruins had lost an opportunity to close to two games of the Pac-12 lead, any hopes of a conference regular-season title, and their first victory at Hec Ed since 2004 all buried.
"This was a really big one," Wear said. "We should have definitely won, up 10 with six minutes to go. If we had just controlled the pace we would have probably won the game."
SMITH DELIVERS

Washington fans still haven't forgiven Joshua Smith, an All-American at nearby Kentwood High, for choosing UCLA over the Huskies.
To counter the boos and jeers, the Bruins sophomore center had 32 friends and family members at Hec Ed.
His performance did not disappoint them.
Smith made 8 of his first 9 field-goal attempts, dominating the paint on both ends to finish with a game and career-high 24 points and nine rebounds.
"Josh played well," Bruins guard Lazeric Jones said. "He really played his butt off tonight, played like we expect Josh to play. He stepped up against a hostile crowd."
WEAR LIMPING

Wear suffered a sprained left ankle with 7:01 remaining and was visibly limping after the game. He said his status for Saturday afternoon's game at Washington State is uncertain.
_____________________
By Gene Warnick, Staff Writer
The Los Angeles Daily News
Posted: 02/02/2012 10:57:09 PM PST
Updated: 02/02/2012 11:25:44 PM PST
SEATTLE - Trailing by a basket in the final seconds, UCLA looked to get the ball to the player with the hottest hand, Lazeric Jones.

Instead, the Bruins found one who couldn't have been much colder.

Freshman guard Norman Powell spent most of Thursday afternoon trying to fight off that sniffling, sneezing, coughing, aching, stuffy head, fever, can't-get-any-rest feeling.
You know, the flu.

"I was feeling sick all day," Powell said. "I got back from the shootaround and got some rest, fluids and medication. I had a headache all game. But you have to fight through it."

Powell gave the Bruins 20 minutes off the bench, but wasn't any feeling better after his 10-foot jumper from the baseline with 3 seconds remaining rolled around the rim and out, capping a 71-69 Pacific-12 Conference defeat to Washington on Thursday night.


"We were trying to get something inside but it never presented itself," UCLA coach Ben Howland said. "It wasn't a bad shot."

The Bruins (12-10, 5-5 Pac-12) blew a 10-point lead in the final 6 minutes to suffer their eighth consecutive defeat at Hec Edmundson Pavilion.

Jones scored all 11 of his points in the second half, including three 3-pointers.
But with the seconds ticking away, it was Powell who was open for the shot.


"You couldn't get a better shot. It is what it is," Jones said. "We just made some bad plays (down the stretch)."

The Bruins also spoiled the homecoming of Joshua Smith, who grew up in nearby Kent, Wash. With more than 30 family members and friends in attendance, Smith had a career-high 24 points and nine rebounds, shooting 9 of 13 from the field.

But Smith scored just two points in the final 7:51, and that came when he made a putback after his own two misses from close range.

"He came out to play, exactly like how we expect him to play," Jones said. "He had his fans here and really did get the job done. When he's hot, we've got to get him the ball."

The Bruins did that for most of the night - until taking a 63-53 lead with 7:05 left.

"For 34 minutes we played really tough and really smart.," Howland said. "But we had some incredibly not-smart plays (in the final minutes)."

Instead of working the clock, the Bruins inexplicably started to commit fouls. The Huskies' game-changing 15-2 run got its start with six straight free throws.

"When you have the lead, it's time not to foul," Howland said.

Washington's Terrance Ross scored 10 of his team-high 22 points in the final 6:21, with his jumper giving the conference-leading Huskies (15-7, 8-2) a 66-65 lead with 2:35 remaining.

Ross' 3-pointer with 1:21 to go made it 71-67, and Smith's putback with 56 seconds left provided the game's final points.

"It's very disappointing," Smith said. "We prepared well and had good practices leading up to this. We had opportunities to close out the game. They showed why they're the No. 1 team in our conference."
_____________________
The LA Daily News
Posted: 02/03/2012 10:39:05 PM PST
Updated: 02/03/2012 10:50:11 PM PST
SEATTLE - You might say UCLA zoned out.
Leading by 10 points with 6 minutes left against conference-leading Washington on Thursday night, the Bruins faltered down the stretch, scoring just six points the rest of the way in a 71-69 defeat, their eighth straight at Hec Edmundson Pavilion.
That was due, in part, to the Huskies switching back to a zone defense, preventing UCLA from getting the ball inside to Joshua Smith, who had just two of his career-high 24 points in the closing minutes.
The Bruins (12-10, 5-5 Pacific-12 Conference) can expect to face a similar defense this afternoon when they take on Washington State in Pullman.
"They play plenty of zone, so we're going to have to attack that better than we did," UCLA coach Ben Howland said. "Josh really played well, but it was our inability to attack the zone in the last five minutes (that cost the game)."
The Bruins did well enough against the zone early in the second half Thursday to turn a one-point halftime deficit into the 10-point lead.
Lazeric Jones, who was scoreless in the first half on 0 for 6 shooting, made a 3-pointer on the Bruins' opening possession of the second half and added two more 3s.
The Huskies went with a full-court press to claw their way back, then switched back to the zone after taking the lead.
"When teams go to the zone, it slows down our offense," Smith said.
"We were prepared for them to run some zone. Zeke made them pay with a couple of 3-pointers, but it came down to execution."
Bouncing back
Howland vigorously denied his team might have trouble rebounding from such a difficult defeat.
"I don't have any worries about our guys packing it in," he said.
"We're really disappointed, but we'll get by this. I don't sense anything like that."
Scouting the Cougars
Washington State guard Faisal Aden is out for the season after suffering a torn ligament in his left knee last Thursday in a loss at Arizona.
Aden, who just days earlier was named the Pac-12 player of the week for totaling 57 points in victories against Stanford and Cal, was the Cougars' second-leading scorer with 14.5 points per game and led the conference by shooting 89.4 percent from the free-throw line.
"Obviously, we are going to miss him tremendously," WSU coach Ken Bone said earlier this week.
Brock Motum scored 26 points Thursday as the Cougars defeated USC 60-53.
WSU (12-10, 4-6) is 8-0 at home this season.
_____________________
UCLA is held to three points over the final 12 minutes to help the Huskies overcome a 10-point deficit.
Associated Press
via The Los Angeles Times
10:33 PM PST, February 2, 2012

SEATTLE — Anytime that look shows up on the face of Terrence Ross, Washington Coach Lorenzo Romar knows his sophomore star needs to get shots.

That gleam showed up Thursday night. And Ross came alive in the closing minutes, scoring 10 of Washington's final 12 points as the Huskies rallied to stun UCLA, 71-69, and hold onto first place in the Pac-12 Conference.

Ross finished with 22 points, 18 of them in the second half and more than half of those coming in the final seven minutes after UCLA had taken a 10-point lead.

"I thought for 34 minutes we really played tough, really played smart," UCLA Coach Ben Howland said. "We made some really bad mistakes."

Said Romar, "Terrence got that gleam in his eye, that look that forces you to make sure he gets the ball."

Ross' three-pointer from the wing with 1 minute 20 seconds left turned out to be the game-winner, but the Huskies (15-7, 8-2 Pac-12) had to watch Norman Powell's baseline jumper with three seconds left hang on the rim and fall off before celebrating their fourth straight win over the Bruins.

It ruined a career night from UCLA's Joshua Smith. who finished with a career-high 24 points and was unstoppable on the low block for much of the night.

But the Bruins silent in the final minutes, frittering away a 10-point advantage. That lead had seemed more than enough with 7:01 remaining after Travis Wear's jumper gave UCLA its biggest lead.

"It's a game we really wanted," UCLA's Lazeric Jones said. "We prepared well for this game, and for it to come down at the end like that, people are really upset.

Washington's rally started at the free-throw line. Ross and C.J. Wilcox combined for six straight points at the line, and Ross' 18-footer got Washington within 65-61 with 4:38 left. Ross then hit a three-pointer and the deficit was 65-64.

Ross converted with an acrobatic spin and scoop in the lane while being fouled, to give Washington the lead. A UCLA turnover led to a Darnell Gant dunk, and the Huskies led 68-65.

David Wear scored on a 15-footer with 1:40 left, the Bruins' first field goal in nearly six minutes, but Ross answered with another three to push the Huskies' lead to four. Smith scored on the interior while being fouled with 56 seconds left but missed the free throw.

After a Ross miss, UCLA worked the ball around the perimeter until Powell drove to the baseline and got an open look. His shot bounded around the rim, hung and fell off and the horn sounded.
_____________________
By Peter Yoon
ESPN Los Angeles, UCLA Report
February, 2, 2012 9:51 PM PT
UCLA blew a 10-point lead in the final six minutes and lost, 71-69, Thursday at Washington, the eighth consecutive loss for the Bruins at Alaska Airlines Arena and the fourth time in five road losses this season that UCLA has let a game get away late.
Joshua Smith
had a career-high 24 points to go along with nine rebounds, but it wasn't enough as the Bruins (12-10, 5-5) remained winless against Division I teams away from Southern California.
Overview:
UCLA led, 65-55, with 6:02 to play, but had four turnovers and went 2-for-7 from the field over the rest of the game. Washington went on a 13-0 run to take the lead and held on for the victory when
Norman Powell
's 15-foot jump shot with two seconds left fell off the front of the rim and Smith couldn't corral the rebound as time expired.
Washington guard
Terrence Ross
scored 18 of his 22 points in the second half, including 12 in the final 6:21 as Washington (15-7, 8-2) rallied back and remained in first place in the Pac-12 Conference standings. Ross made 7-of-8 shot attempts in the second half and Washington shot 52 percent from the field in the game despite a 4-for-11 performance by leading scorer
Tony Wroten
.
Turning point:
UCLA led by 10, but during a 28-second span,
Lazeric Jones
and
Tyler Lamb
each picked up their fourth fouls and a minute later
David Wear
picked up his fourth.
Those fouls seemed to deflate the Bruins, who went a stretch of five minutes, 30 seconds without a field goal. Twice the Bruins committed offensive fouls for turnovers during that span and Ross began heating up.
His layup with 2:35 to play gave Washington a 66-65 lead, it's first since halftime, and his 3-pointer with 1:15 to play gave the Huskies a 71-67 lead.
UCLA star of the game:
Smith played easily the best game of the season and probably the best game of his career as the 6-foot-10, 305-pound center played with energy and passion.
He displayed some post moves he had not shown in past games, going up and under for some baskets and even made a mini-jump hook. He fought for position in the paint and took the ball to the basket with a purpose -- something he has been criticized for not doing all season.
Smith made 9-of-13 shots, setting career highs in both shots made and attempted as he finally showed the type of dominating force he could be as he finally gets his conditioning level up. Surely Smith, who grew up in Kent, Wash., had extra motivation playing in front of his hometown crowd.
Stat of the game:
On the surface, UCLA's 44.3 percent shooting doesn't look horrible, but a closer look reveals that Smith, David Wear (5-for-6), and
Jerime Anderson
(3-for-4) combined to make 17-of-23 (73.9 percent) while the rest of the team was 10-of-38 (26 percent).
UCLA's leading scorers for the season Jones and
Travis Wear
were a combined 7-of-29 (24.1 percent) with Jones seemingly going rogue and getting out of the structure of the UCLA offense at times and reverting to his early-season habit of trying to force things.
Travis Wear entered the game leading the conference with a 65.8 shooting percentage in Pac-12 games, but made only 4-of-15 shots as he missed several tip-ins and open jumpers. Lamb was 2-for-7 and Norman Powell was 1-for-4.
Lamb is 6-of-25 (24 percent) in UCLA's last four road games.
What it means:
UCLA will not win the Pac-12 regular-season title.
Only two teams in the last 48 seasons have won the conference title with five losses and the Bruins chances of doing it this year are pretty much gone as they now trail Washington by three games and have five teams between them and the top, meaning it's a near certainty that UCLA will have to win the Pac-12 tournament to make the NCAA tournament.
UCLA's best hope now is to finish among the top four in the conference to get a first-round bye in the Pac-12 tournament. Otherwise, the Bruins would have to win four games in four days to make the NCAAs.
The Bruins have only themselves to blame as they have been unable to close out games on the road despite being close in just about every one. Before throwing away the 10-point lead at Washington, they blew a 13-point halftime lead in a 75-68 loss at Oregon and allowed Oregon State to shoot 58 percent in an 87-84 loss.
At Stanford, Jones missed a buzzer-beating attempt in a 60-59 loss and at California the Bruins were within a point at halftime before getting blown out, 85-69, as they allowed Cal to shoot 65 percent.
Boxscore (Yahoo.com)