Sophomore center Joshua Smith contributed a total of 14 points in UCLA's 76-49 victory over Utah, where the Bruins extended their 15-point halftime lead. Photo: Daily Bruin
Blaine Ohigashi
UCLA bounces back, rolls over Utah
/ THE ORANGE COUNTY REGISTER
Published: Jan. 26, 2012 Updated: 11:37 p.m.
LOS ANGELES – Jerime Anderson's halftime speech to his UCLA teammates Thursday night was brief was to the point.

"Two words," the Bruins senior point guard recalled later.

"The first was something I can't repeat. The second word was 'Oregon.'"

Anderson's speech was both a reminder of how the Bruins blew a game Saturday in Eugene and also a rallying cry for UCLA as it kept its foot on the gas in the second half and rolled over Utah, 76-49, at a less than two-thirds full Sports Arena on Thursday night.

UCLA (11-9, 4-4 Pac-12) turned a 15-point halftime lead into a 36-point advantage in the second half by shooting 73.7 percent from the field and maintaining its defensive intensity in the final 20 minutes.

"This game was a real confidence booster for us," forward David Wear said. "We focused for a full 40 minutes defensively."

Wear and the Bruins believe they can still get back into the Pac-12 race with a victory against Colorado (14-6, 6-2), one of four schools tied for the conference lead, on Saturday.

"With the Pac-12 still wide open this year," said UCLA center Joshua Smith, who led four Bruins in double figures with a game-high 14 points. "There's not really a team that has really established itself as a dominant team. We know this was a very big week for us."

The weekend looms even larger after UCLA wasted a pair of winnable games last weekend in the Willamette Valley. The 75-68 loss at Oregon was particularly difficult to get over after UCLA led by 15 late in the first half only to lose control of the game in the opening moments of the second half.

The memory was still fresh as UCLA took a 36-21 lead into the locker room Thursday after the Bruins broke the game open with a 14-4 run over the final 6:33 of the first half.

"We felt the first five minutes of the second half were really huge," said Coach Ben Howland, who picked up his 200th victory at UCLA. "I didn't talk about last Saturday (at halftime) but that was exactly what was going through my mind."

This time there was no let up.

After Utes center Jason Washburn scored the opening basket of the second half, the Bruins rattled off six quick consecutive points, capped by a David Wear 3-point jumper to go out, 42-23. Another Wear 3-pointer and a 3-point play by Jerime Anderson found the Bruins ahead, 53-32.

Moments later, UCLA sophomore guard Tyler Lamb picked up a steal on one end, and then nailed a 3-pointer on the other and then freshman guard Norman Powell converted another Utah turnover to stretch the gap to 58-32.

Anderson played what Howland characterized as his "best game as a Bruin," scoring 13, and adding three assists, three steals and a blocked shot.

David Wear finished with 13 points. Guard Tyler Lamb had 10 points, four assists and three steals on perhaps UCLA's most balanced game of the season. UCLA's other point guard, Lazeric Jones, scored just seven points but was still pivotal to the offense dishing out six assists.

But perhaps the most encouraging performance came from Smith, who rebounded from a disastrous game against Oregon in which he didn't score a field goal until the final 37.9 seconds of the loss.

"I thought he was really motivated after last week," Howland said.
______________________
Published January 27, 2012, 1:39 am
In its last game, the
UCLA
men's basketball team mounted a 13-point halftime lead against Oregon only to see it quickly erased when the second half began.
Thursday at the Sports Arena, the Bruins built a 15-point halftime advantage and made sure that this one didn't get away in a 76-49 win.
After last weekend's debacle at Oregon,
UCLA
coach Ben Howland attributed the Bruins' poor play to defensive issues.
Those issues were corrected, if only for a night.
UCLA
held Utah to 37 percent from the field and 31 percent from 3-point range.
"Guys played hard defensively for 40 minutes which is what we talked about going in," Howland said after the game.
Redshirt sophomore forward David Wear had an explanation for the upshot in defensive effort.
"I think we focused for a full 40 minutes," he said. "Our rotations were fast. We were talking and we were moving."
Although the defense was improved, the Utes are one of the worst offensive teams in the conference. Utah (5-15, 2-6 Pac-12) ranks in the Pac-12's bottom three teams in nearly every offensive statistical category.
UCLA
scored 14 points off turnovers, five of them coming from steals and baskets at the other end by sophomore guard Tyler Lamb.
The Bruins opened the second half strong and their halftime lead of 15 quickly ballooned to 20 and beyond, making sure to not let the Utes back into the game as they did the Ducks.
"I told my team that we cannot let this happen again," senior guard Jerime Anderson said. "I refuse to let it happen again for the rest of the year. If we have a lead like that, we have to control it."
"That was one of the main things we talked about at halftime," Wear added. "We can't have another letdown like we did at Oregon. We knew we had to focus and come out with great intensity to not have another letdown."
Sophomore center Joshua Smith bounced back from disappointing games in Oregon last weekend to finish with a team-high 14 points on 5-of-6 shooting and five rebounds. Smith showed marked progress from the Bruins' last two games. He looked to be giving more effort on both ends of the floor, chasing a ball far out of bounds at one point in the second half.
"It's just giving more effort," Smith said. "I acknowledge I didn't play my best against Oregon but coach just told us we have to play as hard as we can. That's what I was trying to focus on, trying to play as hard as I could until a sub came."
The game got so out of hand that UCLA's walk-on unit checked in with more than four minutes to play.
Wear (13), Anderson (13) and Lamb (10) also scored in double figures for the Bruins.
UCLA
(11-9, 4-4) now turns its attention to Colorado on Saturday. The Buffs started the conference season strong but have since cooled off.
Still, they're one of six teams with a winning record in the conference and are coming off a 74-50 defeat of
USC
on Thursday. With a sweep of the Pac-12 newcomers,
UCLA
would remain perfect at home within the conference.
______________________
The Bruins benefit from a much stronger showing on defense in their 76-49 victory. Joshua Smith scores 14 points, while Jerime Anderson and David Wear both score 13.
By Chris Foster
The Los Angeles Times
10:53 PM PST, January 26, 2012

This was a must-see game ... in 1983.

It was merely a get-well moment for UCLA on Thursday night.

The Bruins and Utah were NCAA tournament news the last time they played, when the Utes pulled off a second-round upset in 1983. But Utah star Pace Mannion is now 51 years old and both teams probably will be left strolling down memory lane rather than hitting the road to the Final Four this season.

So what transpired during UCLA's 76-49 Pac-12 Conference victory in the Sports Arena was more about renovation than revenge.

UCLA (11-9 overall, 4-4 in conference play) could not have asked for a better opponent against which to scrub clean memories from its 0-2 swing through Oregon last week.

Utah joined the Pac-12 this season and the welcome wagon was rolled out — and it continues to roll over the Utes (5-15, 2-6), who are 0-10 outside Salt Lake City this season.

Joshua Smith scored 14 points, while Jerime Anderson and David Wear both scored 13. UCLA shot 58.7% in what amounted to a extra practice session before its game Saturday against Colorado, which is in a four-way tie for first place.

"This was a real confidence booster for us," Wear said.

The Utes have been a care package in high-tops for much of the season. They have been pummeled by Colorado (73-33) and California (81-45). The Bruins joined that crowd, taking control of the game with a 14-4 run that gave them a 36-21 lead at halftime.

The second half was more about group therapy.

The Bruins had a 13-point lead at Oregon on Saturday and collapsed in the second half. They pushed the lead to 20 points in the first four minutes of the second half Thursday.

UCLA shot 73.7% in the second half.

"I didn't talk about the Oregon game, but it was on my mind," said Ben Howland, who picked up his 200th victory as UCLA's coach. "I told them to build on that lead, especially the first five minutes."

The Bruins dissected the Utes from there.

Anderson made five of six shots in what Howland said was "one of the best games he has played at UCLA. He was very efficient."

Smith, who stuck out like a 305-pound sore thumb in Oregon, was five of six from the field. He also had five rebounds and was an immovable object on defense.

"Josh can do that on offense every night," Anderson said. "When he plays like he did on defense tonight, it definitely helps our team a lot."

Smith entered the game with the score tied, 9-9, and scored four consecutive points to start a 17-8 run. He also got an offensive rebound to extend a possession that ended in a three-pointer by Anderson.

"Josh was a difference-maker for us tonight," Howland said. "He was very motivated after last weekend."

The Bruins were spectators on defense at Oregon State on Jan. 19 and gave up 51 second-half points to Oregon two nights later. Utah shot 37%, though the Utes did not have a player averaging in double figures after Josh Watkins was dismissed from the team last week.

"This was a good win for us," Howland said. "The guys played well defensively for 40 minutes."

The only down side for the Bruins was that they don't get another crack at Utah this season.
______________________
Los Angeles Daily News
Posted: 01/26/2012 10:42:33 PM PST
Updated: 01/26/2012 11:11:24 PM PST
Nothing quite boosts the confidence like stomping on a doormat.

The Pac-12 gave the UCLA mens basketball team a bit of a reprieve Thursday, a quick pick-me-up after what was a weekend to forget in Oregon.

The Bruins rebounded from back-to-back losses in the Beaver State with a 76-49 win over Utah on Thursday in front of 4,434 at the Sports Arena.

"This was a real confidence-booster for us," UCLA sophomore forward David Wear said. "To have two good days of practice and to carry it into the game from practice - we wanted to play 40 minutes without any letdown."

Heading into the matchup with the Utes, no Bruin was as blue as Joshua Smith.

The hulking sophomore center admitted to being in his own head in recent games, and adding a 6-foot-10, 300-pound behemoth to the opponent certainly can't help UCLA.
Good thing the Utes have only one player taller than 6-6.

But Smith stayed out of his own way and steamrolled Utah, finishing with a team-high 14 points on 5-of-6 shooting while tying for the team lead with six rebounds.

"Coach told us they weren't that big inside - they had the 6-10 dude but outside of that I think the next tallest dude they have is like 6-7," Smith said. "We had the advantage inside and coach told us to be aggressive."

When the Bruins (11-9, 4-4 Pac-12) made it a concentrated effort to get it to Smith midway through the first half, they were rewarded.

Tied at nine with 15 minutes left in the first half, when Smith entered the game, UCLA went on a 19-8 run, with Smith scoring seven points.

With a little momentum, the Bruins pounced on the Utes (5-15, 2-6), taking a 15-point lead into halftime.

"I talked about the first five minutes of the second half being huge," UCLA head coach Ben Howland said. "Just keeping up intensity and playing hard. I didn't talk about last Saturday but it was exactly what was on my mind."

UCLA has been here before, though, up big at the halfway point.

The Bruins were up 13 at halftime against Oregon last Saturday, only to watch the Ducks storm back to win by seven.

There would be no such surge by the lowly Utes. UCLA shot 14-of-19 in the second half, with a balanced effort led by Jerime Anderson. Anderson had eight points in the second half, finishing with 13, while sophomore forward David Wear added 13.

"Our senior guards did a really good job leading us," Howland said. "I thought Jerime had one of his best games as a Bruin tonight."
______________________
By Peter Yoon
ESPN Los Angeles, UCLA Report
January, 26, 2012 11:36 PM PT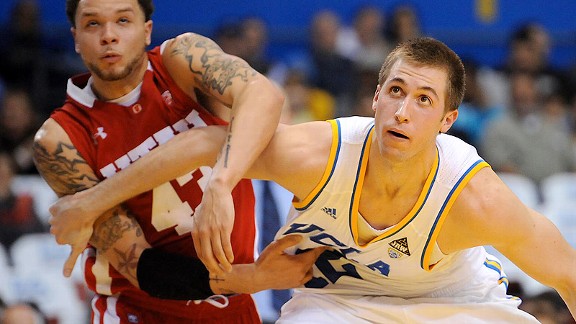 David Wear was part of UCLA's balanced attack in the Bruins' rout of Utah on Thursday. Photo: Jayne Kamin-Oncea/US Presswire
LOS ANGELES -- UCLA bounced back from its disappointing weekend in Oregon with one of its most dominant performances of the season in a 76-49 Pac-12 victory over Utah on Thursday night at the Sports Arena.
The Bruins (11-9, 4-4 Pac-12) raced to 36-21 halftime lead and unlike Saturday at Oregon, where they blew a 13-point halftime lead, the Bruins finished the job and evened their record in conference play.
"What I said to my team at halftime, I told them two words," senior guard
Jerime Anderson
said. "One was something I can't say right now and the other was Oregon. I just said, 'Man, we cannot let this happen again.' If we have a lead like that we should be able to control the lead and come out with the win."
UCLA began the second half with a 6-2 run, expanded the lead to 20 points four minutes into the half and led by as many as 35 before coach
Ben Howland
cleared the bench and got all the walk-ons in the game.
"I talked about the first five minutes of the second half being huge and our intensity level," Howland said. "We have a 15-point lead and have to build on that right away and set the tone in the second half."
Five observations from the game:
1
Joshua Smith emerged from the doldrums
Smith had a poor performance on the Oregon trip last week, but rebounded nicely with a dominant performance Thursday night. He finished with a game-high 14 points on 5-fot-6 shooting and added five rebounds in his 18 minutes.
"Just giving more effort," Smith said. "The Oregons I didn't play my best. Coach just told us when you go out there you have to play as hard as you can. Whatever you do you have to give it your all until you come out and that's what I was really trying to do is focus on playing as hard as I could until a sub came in."
It was a far cry from his lethargic games at Oregon State and Oregon, where he had 16 points, six rebounds and seven personal fouls in 31 combined minutes over the two games. But most of all, his body language and energy level was noticeably better.
"I thought he was motivated after last weekend and he played well tonight and was a difference maker for us," Howland said.
2
Jerime Anderson was another difference maker
Anderson looked as comfortable as he has all season running the offense and played with precision and efficiency. He scored 13 points on 5-for-6 shooting and had three assists and three steals as he kept the UCLA offense running smoothly.
"Jerime played one of the best games of his career today," Howland said. "He really played solid and really controlled things for us out there for us."
Anderson made 2-of-3 3-point shots and had only one turnover for the game. Anderson said he just tried not to force anything.
"I just thought I just took what they gave me," he said. "My teammates found me at open spots and I just tried to take open shots and just get the ball to the right guy and that was pretty much it."
3
The Bruins shared the ball nicely
The shot distribution for UCLA was as balanced as it has been all season.
Norman Powell
and
Tyler Lamb
led the team with seven shots each while Smith, Anderson,
Lazeric Jones
,
David Wear
and
Travis Wear
each had six shot attempts.
"We were playing very unselfish and sharing the ball," Howland said.
It was a departure from the last few games when Jones had been taking the Lion's share shots. He had 16 attempts at Oregon, 17 at Oregon State and had averaged 14 attempts over the last five games, but was shooting only 37 percent over that span.
UCLA shot a season-high 58.7 percent as a team, including 73.7 percent in the second half and Jones had six assists and a team-leading six rebounds to go along with his seven points.
"It just goes to show you that Zeek is not playing for Zeek, Zeek is playing for UCLA," Howland said. "He did a great job sharing the ball. He was really being unselfish. He's our captain, he's our leader."
4
Howland unveiled the twin-tower lineup
Smith and
Anthony Stover
, both 6-foot-10 centers, were on the floor at the same time for the first time this season. Normally Stover backs up Smith, but Howland experimented by pulling out both of the Wear twins and putting the two big men in at the same time.
"That won't be something that we'll be going to a lot I don't think," Howland said. "I didn't want to bring the Wears back in because we needed to keep their minutes down getting ready for Saturday's game and not playing them more than they have to."
The move caught the big men by surprise. Howland sent Smith in for Travis Wear, but Stover came trotting off the floor. When Smith told Stover to stay out there, Stover put his palms face up and had a confused look.
"With me and him in there is was fun," Smith said.
5
There is still skepticism surrounding this team
This was a nice bounce-back victory for UCLA, but it was also a bit of a scheduling break to play Utah (5-15, 2-6) after such a tough road trip. The Utes are among the worst teams in the conference and recently dismissed leading scorer
Josh Watkins
from the team.
The Bruins still have only one or two wins that could be considered wins of note -- Arizona and Richmond -- and even those are iffy.
UCLA's victories have come against opponents that are a combined 75-122. Meanwhile, the Bruins' losses have come against teams that are a combined 136-47. So basically, UCLA has beaten bad teams and lost to good teams.
Penn (10-9), Richmond (12-9) and Arizona (14-7) are UCLA's only victories over teams with winning records, so Saturday's game against Colorado (14-6, 6-2) will tell far more about whether the Bruins have bounced back from their tough road trip or if they are simply destined to be a middle-of-the-road team in a middle-of-the-road conference this season.
"We just need to come out and have the same effort as we had tonight," David Wear said. "I think if we just play 40 minutes of complete high-pressure defense and we play smart offensively and make good decisions like we did tonight and we come out with better intensity in the second half, that will get us on the right track."
Anderson said he hopes the team is, indeed, on that track.
"We played inspired tonight," he said. "We played with some fire under our belly just because we're coming off the weekend that we had and we had to bounce back. When our back is against the wall, our team has a lot of heart and we can show it if we just go out and play hard and have the intensity that we're supposed to have."
Boxscore courtesy of Yahoo.com